A Portobello resident has transformed a derelict fence into a piece of art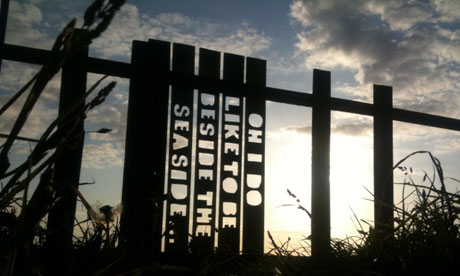 This example of guerrilla art in Portobello was sent in last week by an anonymous contributor, who wrote the following:
"There seems to be plans to build on this bit of waste ground. Kids play football here, people picnic and it's a nice patch of green by the beach. The owner of the plot can see a way of squeezing flats in so it looks like it's going to go. I'm sure a shabby fence in disrepair makes for an easier planning application so there's not been any interest in repairing the fence that borders the Promenade. I was sitting on the sea wall and noticed that the ugly fence cast interesting shadows and thought there might be some fun in repairing it. If flats go up here the shadows we'll get will be cast on over the beach.
"I put the planks up very early on Tuesday morning because the weather report said sunshine all day. The holes were pre drilled so's not to make too much noise and they went up quick. I honestly hadn't given too much thought to how they'd look from the grassy side of the fence with the sun rising behind them so it was a huge bonus to see them backlit like that. At lunchtime I sat on the wall with an Espy ginger beer and watched folk trying to read the backwards writing, walking round the fence and stopping on the prom to read the shadows.
"I walked past on the way to work on Wednesday and one of the planks had been knocked down. Poor workmanship on my part and a decent strike from a footballist I reckon. The fence has been slowly and systematically broken up for beach bonfires so I was expecting the planks to disappear at some point but I'd hoped they'd last longer than 24hrs. I didn't have time to stop so it was well after lunch when I went down with my screw gun, false beard and chunkier screws. Turns out that at some point during the day some excellent Porty resident had nipped in and put the plank back up.
Maybe someone else will come along and add another plank. There's a dot, dot, dot after 'seaside'."