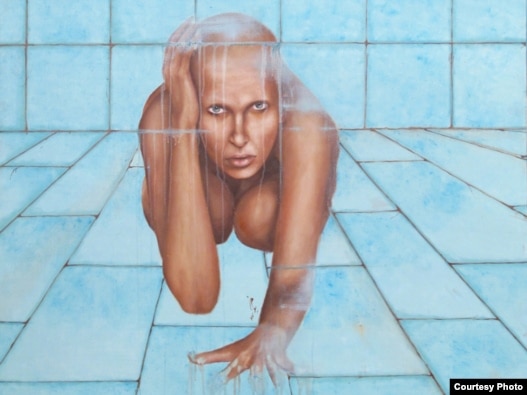 The Persian word for "love" is spelled out in Swarovski crystals and glitter, with a small footnote from the artist: "A picture is worth a thousand words and a word a thousand pictures." The estimate wasn't high enough.
When the acrylic painting on canvas sold at Bonhams in Dubai two years ago for a historic $1,048,000, the Iranian creator Farhad Moshiri became the first artist from the region to break the $1 million price barrier at auction.
It was a breakthrough moment -- not just for Moshiri -- but for Iranian art, which for the last few years has been going through what experts say is a "golden age." Largely attributed to the stabilization of the Dubai art market and strong ties between the United Arab Emirates and Iran, the boom is also being fuelled by a younger generation of artists attempting to push the boundaries of freedom of expression.
Lebanese-Iranian Rose Issa, a gallery owner and art dealer, has spent the last 30 years championing artists from Iran and the Arab world. These days, she says, there's "a real buzz" in Tehran.
The mass demonstrations that broke out following the disputed reelection of Mahmud Ahmadinejad last June are related to a growing demand for self-expression among Iranians, Issa says. She says it is no coincidence that since the protests, "many new galleries have opened" in Tehran, calling them "even trendier" and "more luxurious" than before. These galleries, she says, have started publishing catalogues, something she hasn't seen "for decades."
Sales of Arab and Iranian art in Dubai increased from $2 million in 2006 to $35.7 million in 2008. Iranian artists now represent 74 percent of sales of artwork in Christie's Modern and Contemporary Arab and Iranian auctions and 64 percent of sales at Bonhams.
Edward Lucie-Smith, a curator of Middle Eastern art (in which category Iran is often mistakenly placed), writes in an e-mail interview that currently Iran boasts "more artists, bigger talents, many [of them] still firmly rooted in Tehran despite the current political situation."
Dubai's high prices for contemporary Iranian art "obviously find an echo in Europe," Lucie-Smith writes, "not least because collectors feel that there is now an established market if they need to sell," but also because "Iran has the richest contemporary visual-arts culture in the region."
Forty-six new galleries have opened in Iran over the last two years -- 26 of them in Tehran, says Mahmud Shaloie, the director of the office of visual arts for the Ministry of Culture and Islamic Guidance. There are about 300 art galleries in all of Iran.