Remember the old Art Instruction School commercials where you could test your drawing skills with a test that included drawing a turtle and a pirate in an effort to not "let the wonderful world of art pass you by"?
[+] Enlarge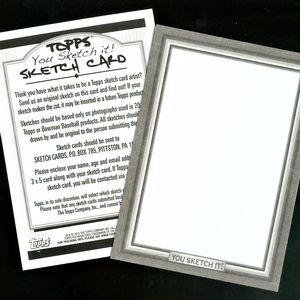 ToppsStarting next week, you can draw your own Topps trading card and possibly be in a future set.
Well, Topps has done them one better.
The New York-based collectibles company is launching a program in its forthcoming set of 2010 Topps Series 2 baseball cards (arrives on Wednesday) that allows collectors who find special cards inside packs to test their art skills.
"You Sketch It!" cards are found thoughout packs of Series 2 and essentially are a blank slate for artists of all ages to complete -- here comes the kicker -- and return their masterpieces to Topps for possible inclusion as bonus cards in future packs of baseball cards. That's right, your artwork might be found beside cards of Alex Rodriguez, Ryan Howard or Tim Lincecum -- that is, if it's good enough.
Think of it as "American Idol" for the artistically inclined sports card enthusiast.
"I think it is a fantastic idea," said Monty Sheldon, a popular Seattle-based sports artist. "If I wasn't already working for Topps, I would appreciate this chance to show them what I could do, hoping it would lead to future art jobs with the company. My guess is that a number of the cards they get back will be of top caliber."
Topps will award prizes for the best artists, too, but we'll let the concept sell you on getting out your pencils and Sharpies. How can interested artists get involved? The backs of the cards give details on what's accepted art-wise and the instructions on where to send them.
Paul LempaArtist Paul Lempa used paint for this trading card.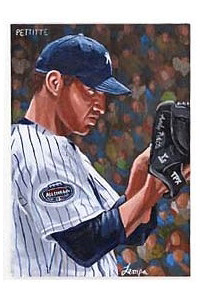 Pocket-sized masterpieces are relatively new to the sports card scene, but they've been included in non-sports card sets for years with comic book characters like Wolverine or Superman often the main focus.
Since late 2008, though, Topps has commissioned artists to create sketch cards to be inserted into pack of its baseball cards -- unique gems that are much different than an autograph or a card with a piece of memorabilia embedded inside.
The artists' styles vary -- as does the type of work given the quantities -- but collectors have shown that they enjoy these types of cards by sometimes paying hundreds of dollars for the creations.
Most sketch card artists, like Brooklyn-based Brian Kong for example, will use traditional inks or pencils for their sketches, but some artists go to even more creative lengths. Jersey City, N.J.-based artist Paul Lempa uses paint -- quite a challenge when you consider that it's just a 2½ by 3½ inch piece of cardboard canvas.
What media collectors settle on when they tackle their own sketch cards -- and who will they draw as dreams of wax pack stardom dance in their heads? Therein lies the charm of the project.
Chris Olds is the editor of Beckett Baseball magazine. Check out Beckett.com -- and be sure to get the latest news on sports cards and memorabilia at The Beckett blog. You can also follow him on Twitter.