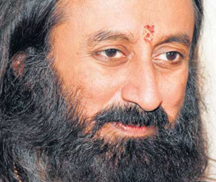 Guru Sri Sri Ravishankar is all set to teach a specially designed Art of Living course to the trauma-hit Air India staff.
The course, which has been christened Art of Flying, will be taught to Air India personnel in the days ahead.
"Heavy food during night flights and inclination towards alcohol proves costly," Ravishankar told MiD DAY. "This has to be checked first. It will be part of our trauma-relief exercise for the Air India staff."
Sudarshana Kriya, a unique breathing technique that helps people develop a sound mind and body will be introduced to the Air India staff first.
Besides counseling, they will also be taught techniques, specially designed for aboard crew, to enhance their awareness and action capabilities.
The techniques that are expected to help in this regard, include Ujjayi breathing and Nadi Shodhana, besides meditation.
"We will begin trauma relief for families of victims, pilots and air hostesses," added Ravishankar.
"The process will enhance their awareness, help them with deep relaxation and help them act quickly and accurately, which can prevent disasters."
Ravishankar's unique tips include practicing pranayam, abstaining from alcohol, avoiding heavy food, simple exercises and deep breathing techniques that can be performed aboard.
"There is a belief that alcohol relieves stress among pilots," added Ravishankar. "This is what leads to a disaster. They should instead rely on simple yogic techniques that they will be taught."
AOL, which has started the process initially in Mangalore, plans to extend its training sessions across the nation in phases after talks with Air India.
"Air India employees have been full of negative emotions since the crash. This needs to be addressed," explained Dr Vinaya Hegde, the AOL volunteer overseeing the trauma relief exercise in Mangalore. "There are certain techniques that will relieve them of stress."