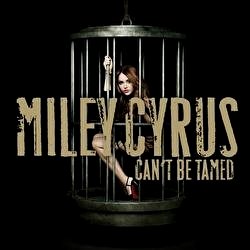 The Veronica Miller of 'The Last Song' is seen inside a giant bird cage in a photo claimed to be the 'Can't Be Tamed' cover art.
---
An artwork which is rumored to be a cover art of Miley Cyrus' brand new single titled "Can't Be Tamed" has just surfaced. The picture shows the "Hannah Montana" star being locked in a giant bird cage.
Previously, Miley was reported to get an X-rated makeover and leave her image as a clean teen queen in the new record. A source told The Sun, "It's Miley Mark II for the new album. She's been the clean teen queen too long. The new look and attitude will shock a lot of people but it's something Miley wants to do."
Along with the outing of the possible cover art, it is officially announced that a music video for the upcoming song will be premiered on E! News Tuesday, May 4 at 7:00 P.M. ET/PT and 11:30 P.M. ET/PT. Meanwhile, "a unique insight into the creation of the video and the inspiration behind it" will be shared by Miley on an interview with Ryan Seacrest on the same day.
Taken from an album of the same name "Can't Be Tamed", the track will be unleashed on April 30 and sent to radios on May 3. It is described as a self-empowering song in which Miley asserts that she has to stay true to herself in relationships.