Recently, Iroko Arts & Lifestyle, an organization founded by Theresa Ijeomah Nadorp and Oluwatosin Onile-Ere Rotimi, held a one-week exhibition in Maitama, Abuja, with a collector's catalogue of fifty years of Nigerian Arts—cutting through generations of artists, from the legendary sculptor, Ben Enwonwu to modern artists like Sam Ovraiti and Tayo Omorin. The exhibition was sponsored by Daar Communications, AIT, Raypower, FCT, Nigerian Gallery of Arts, Society of Nigerian Artists, Indulge Spas, Mallorca Landscape, Tulip Press, Printe Shoppe Abuja and Protea Hotels.
The renaissance art exhibition, Mrs. Onile Ere-Rotimi said is intended to revolutionize the way Nigerians think of themselves. The works on display range from sculptural pieces with rich histories of the Bights of Benin and Biafra .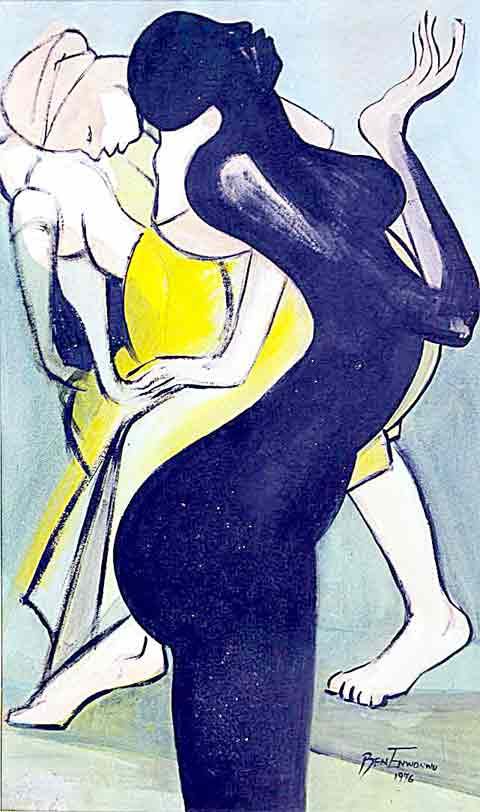 At a pre-event press briefing, Mrs. Ere-Rotimi said, I A& L will be holding "free art workshops for children giving participants the opportunity to experience art and to encourage self-expression. Our workshops are open to all and are a haven where children's creativity is allowed to flourish. As 1A& L's contribution to social and corporate responsibility, a percentage of our proceeds go towards financing the free educational workshops".
The exhibition which continues without attracting fees, "aims to attract and awaken the consciousness of society from an artistic point of view. IA& L's promotion of art is not only philanthropic, which of course it is, but also aims to create employment, improve Africa's self-esteem, pride and improve our external image while promoting tourism to the continent".
Her partner, Mrs. Nadorp said she is worried that "States in Nigeria are not willing to provide galleries to showcase the wealth of Nigeria culture", adding that her outfit would not relent in making sure states start showing interest.
Commissioner of Arts, Culture and Tourism, and a well-known and respected artist himself, Chief Tola Wewe who gave a Special Presentation at the opening of the Exhibition on Saturday, April 24, 2010, said "When talking about collection, it is a beautiful collection. It has shown the various styles (of art) that abound in Nigeria . And you can see it covers a lot of period; 50 years of Nigerian art. It is also well-curated, but as a result of the number of works, they have not been able to put everything together in terms of cataloguing".
Other dignitaries at the event were, Chief Frank Okonta, Dr. Saliu of the Department of Fine Arts, ABU Zaria, President of SNA, Mr. Uwa Usen, and members of the diplomatic corps.
The deep cultural recesses of Ondo are depicted in the works of Tayo Oni, an alma mater of the great Ahmadu Bello University , where the likes of Bruce Onobrakpeya and Yusuf Grillo cut their teeth.
Renaissance glass pieces from Milicent, a young female artist depict beauty in unconventional ways, while sculptural pieces from older artists like Tola Wewe light the upper and lower chambers of the art gallery.
There were surprises from the photographer, Chief Jimoh Braimoh and the young art historian and sculptor, Lexie Nzekwe. Mr. Braimoh holds society to account for Nigerian condition in pictures, while Nzekwe simply unifies the disparate, but homogenous ancestry of the 1gbo of the South-East and their 'kin' over-looking the Biafran peninsula.
Chief Jimoh Braimoh, a photographer, in a short review of his breath-taking photographs links his life with his art, calling attention to the plight of the majority in Nigeria
"My pictures are symbolic. They represent so many facets of our lives. Some of my photographs are extremely passionate about the degradation of our environment and its effect on our people. How the lack of proper regulation of emissions from our factories is taking a dangerous toll on our population and environment is also a major concern to me as an artist.
"My pictures, what they really stand for is that they actually x-ray human life. The human condition; they x-ray the misery of the poor, the extreme poor and the extreme rich. Mine is to see how the gap could really be covered. If I see a sight that actually depicts my interests I go for it.
"I was fortunate to be where I am today, because God kept me; I could have been dead. I lost one of my legs to polio at one. I lost my mother at 3, and I saw so much that happened to me; all the misery of growing up in an incredibly poor condition and I saw then that these things are real. People have died unsung. I welded through life", he said
But one of the most important displays at the Maitama, Abuja gallery is Otu, by the same artist, Mr. Nzekwe. The artist explains that the piece of work that seeks to "Make a statement about some communities in Anambra State that originate from Benin "
The artists invoke the long held belief that the peoples of Delta State from Ukwuani, Aniocha, Asaba and other 'igbo' in the Delta.
"I am trying to tell you the relationship between the Delta-Igbo Communities and the Benin Communities. This tells you that we all in the South East and the Niger Delta are one, especially in the areas I have mentioned. There is no difference", he said.
Rahmon Oluguna, whose works are on display as well, deploys oil on canvass. This artist whose works are dashingly colourful told Vanguard that though he is inspired by older artists, he likes to be "my own man",