Clock Mechanism Screensaver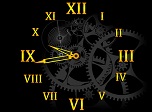 New version of free clock screensaver. You will get all features of the clock screensaver plus you will study it's mechanism. The background is not annoying, other colors are grey and gold. So we hope for optimal colors balance. Great compatibility with all versions of Windows and monitors will surely surprise you. Do not hurry, feel the time! Download free clock screensaver.
Download 3.1 MB FREE screensaver
To remove the screensaver click on 'Settings' in 'Display Properties' when this screensaver is selected as default. Then click on 'Uninstall' button and select another screensaver as your current screensaver.