The Chinese National Academy of Arts bestowed the first China Arts Awards on 23 Chinese creative individuals who have made big splashes in their fields.
The winners range in age and art form from 29-year-old pianist Lang Lang to 101-year-old film director Tang Xiaodan.
Tang was among 11 elderly artists, including painter and calligrapher Fan Zeng, vocalist Wang Kun and dancer Jia Zuoguang, to win a lifetime achievement award and 1 million yuan ($158,105) in prize money.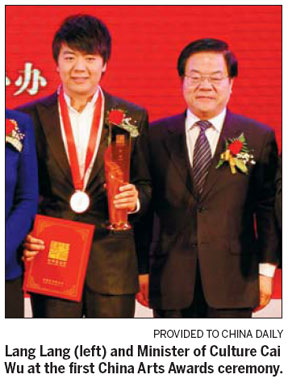 Nine young and middle-aged artists, including kungfu movie star Jackie Chan, actor Pu Cunxin and vocalist Peng Liyuan, received the arts awards and 1 million yuan apiece.
Lang, and dancer Huang Doudou and thangka (Tibetan Buddhist scroll paintings) artist Niangben, took the youth awards and 600,000 yuan.
"This is the highest honor I have received, because the award means recognition from my country," Lang says.
"It will encourage me to contribute more to Chinese piano music."
Niangben believes the award demonstrates greater attention to the country's ethnic cultural heritage. It also went to ethnic Bai dancer Yang Liping, who is celebrated for her performances of the traditional peacock dance.
Minister of Culture Cai Wu says the awards contribute to the fulfillment of the obligations of those who work in cultural and artistic fields - namely, of inheriting art traditions and of developing 21st century China's culture.
"I believe the China Arts Awards will contribute to building China into a stronger cultural power," Cai says.
The jury comprises senior artists and scholars. The jury's general secretary Jia Leilei says the awards should be high-level academic honors, comparable to the Grand prix de Litterature de l'Academie Francaise or the Academy Award.
The China Arts Awards will be presented annually and are open to artists from the mainland, Hong Kong, Macao and Taiwan. The awards will also be open to foreign artists in the future.
"The China Arts Awards represent the aesthetics and values of contemporary Chinese culture and art," Vice-Minister of Culture and president of the Chinese National Academy of Art Wang Wenzhang says.
The awards are financially supported by China Oceanwide Holdings Group.