VirusTotal's service will continue to be available to the public, but now features Google's not-inconsiderable power and money behind it.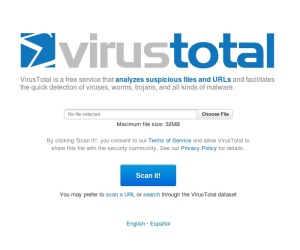 Advertising giant Google has acquired web-based malware analysis giant VirusTotal as it looks to bolster its browser and operating system security.
VirusTotal, founded back in 2002 in Malaga, offers a useful service for those looking to analyse suspicious files: any file uploaded through the company's website, emailed or sent through the public-facing application programming interface (API) is scanned using multiple command-line anti-virus programs. The result is a thorough check of the file against all the most common anti-virus engines - and some rather more esoteric ones - which can provide insight into the trouble any attached malware could cause.
The service, provided for free by VirusTotal, has its limits - files larger than 32MB are rejected - but it's a useful tool for those facing down a new or relatively unknown strain of malware. In particular, it offers a clue as to which anti-virus products are likely to be able to detect and clean the infection.
The service is also popular among anti-virus companies themselves: as well as providing a means of testing their software against the competition, all files uploaded to the service are shared with anti-virus firms - meaning those who do not yet detect a particular virus or Trojan will be given a chance to analyse the file themselves and add detection in the next update.
Google's decision to acquire the company appears to be linked to improving the security and safety of its products. The advertising giant already runs an impressively-sized database of sites reported as malicious, providing users of Chrome, Firefox and other browsers advanced warning should they click a dodgy link. The company also scans files that pass through its email servers for viruses, warning users of attachments that could do their systems harm.
With VirusTotal on-side, Google could potentially amp-up the company's servers and start more automated analysis of files and websites. Submitting each file to multiple anti-virus engines, VirusTotal's specialist, will potentially have the effect of significantly improving the quality of detection and - hopefully - put an end to false positives that have seen perfectly innocuous websites deemed unsuitable for Chrome users' browsing.
'
We're delighted that Google, a long-time partner, has acquired VirusTotal,
' the Spanish company claimed in a statement to press regarding the deal. '
This is great news for you, and bad news for malware generators, because the quality and power of our malware research tools will keep improving, most likely faster, and Google's infrastructure will ensure that our tools are always ready, right when you need them.
'
Those concerned that VirusTotal's useful public-facing services will disappear need not worry, the company has confirmed: VirusTotal will continue to operate independently and maintain its existing relationships with other companies.
'
This is an exciting step forward,
' the company concluded. '
Google has a long track record working to keep people safe online and we look forward to fighting the good fight together with them.
'