Thousands of New Yorkers turn out for fourth anniversary of pre-fashion week bash. And yes, Kim Kardashian was there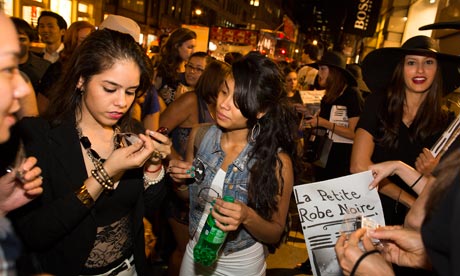 It was created by a legion of fashion glitterati to boost the industry during the recession, but four years later Fashion's Night Out has turned into little more than an excuse for cash-strapped twentysomethings to swarm the streets of Soho in search of free champagne.
In fact, Fashion's Night Out now takes place in stores across the United States and in 18 other countries around the world, but at its unofficial epicenter in New York, it has become a street spectacle on a par with the crowded New Year's Eve and Halloween.
Such are the crowds that by Thursday morning, the New York police department was out in force, erecting barricades to prevent chaos turning to catastrophe.
"Personally, I think it started off as a good idea to get business back downtown after September 11, but now it is just another night for people to party," said Alex Birts, a designer at Wendi Reed. "I don't think the designers and stores get the benefit when people are just there for the free champagne."
A group of friends waiting in line for complimentary manicures at Uniqlo said they were in Manhattan to take advantage of the free drinks and party-like atmosphere.
"The stores are gonna have the same stuff they have today tomorrow, so you just go out and socialize," said Shaleek Boatwright, 19.
Before the event's 6pm kick-off, people who were interested in getting deep discounts or limited edition items queued up outside of the stores.
More than 50 people – mostly men – waited outside the only US outpost of Japanese clothing store Bape.
Edgar Luciano, 23, had been in line since 3am hoping to purchase sneakers and hoodies from the store. Luciano was not planning to shop at any other stores that night, and said: "Whenever sneakers come out, maybe I get about one pair of new sneakers for every month."
Real estate agent Edgar Cabrera was eighth in line at Ben Sherman, which had a 800-person RSVP list for its special night of activities.
This was Cabrera's third Fashion's Night Out and the 24-year-old had a spending cap of $1,500 for the night. He believed most of his fellow shoppers were from outside the US.
"People from New York are enjoying it for the party," said Cabrera.
In addition to the free booze and treats, a major Fashion's Night Out draw is celebrity sightings. Kim Kardashian promoted her fragrance line at Lord & Taylor, Victoria Beckham made an appearance at Bergdorf Goodman and NBA star Dwyane Wade signing copies of his memoir at Calvin Klein.
British singer Jamie Woon performed at Ben Sherman in Soho, where he explained how performing in a shop is different from the traditional musical venue: "The floor is a bit less sticky."
"It's the same people really – just that some have got free shirts," Woon said. "It's pretty good fun, just different clothes around. It sounds a bit better than a lot of venues."
At the night's end, hundreds of people clogged the littered streets of downtown New York, most of whom did not have a shopping bag.