A Hamilton film buff says the gallery's design is not audience-friendly. Photo / Supplied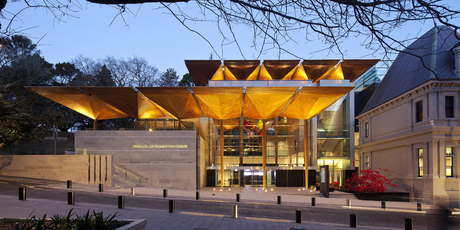 The Auckland Art Gallery's $121 million revamp won New Zealand's top award for architecture, but a Hamilton film buff says its design is not audience-friendly.
Warren Brown says the auditorium in the basement, which is hired out for film showings should have a sloping floor, as is standard in cinemas.
He went to the auditorium last weekend to see Cuban and Russian documentaries screening as part of the International Film Festival.
"It could have been a fascinating film," he said yesterday. "But the Australian architects who turned the basement into an auditorium put almost no slope on the floor.
"As a result, only those in the front row could read the English subtitles at the bottom of the screen
"The rest of us were forced to peer between the heads of other audience members in the vain hope of working out what was happening on screen.
"At least a dozen people in the nearly full theatre rushed to the front row within the first five minutes to get a better view of the screen.
"I wish the architects could have been there to experience the misery that they inflicted on members of the public."
A festival spokeswoman said audiences for future screenings could be assured of seeing subtitles because adjustments had been made by the projectionist to lift the screen image so subtitles were above the heads of people in the front row.
Gallery director Chris Saines said the auditorium work extended its length, improved its rake to the maximum extent possible, and added more seating, within constraints imposed by the original building.
"While it is a general purpose auditorium and not a purpose-built cinema or theatre, it nonetheless has all the technical capacity required for screening films and video of different kinds, particularly documentaries, and we have done so with great success on many occasions."